Powerstep

SlimTech Orthotics
Powerstep's original orthotic insert design in a 3/4 length has a versatile fit in a variety of shoes. The firm but flexible support shell offers support
Description
Powerstep SlimTech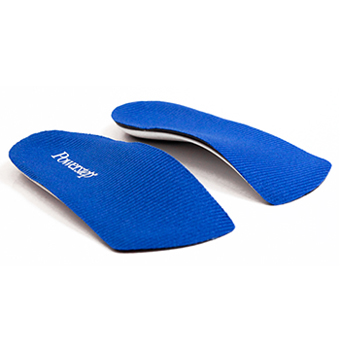 Moderate Cushioning, Full Support
Powerstep's original orthotic insert design in a 3/4 length is versatile to fit in a variety of shoes. Bi-layer design with a firm but flexible support shell, built-in arch support and heel cradle for increased stability. VCT® cushioning in an ultra-thin design. Ideal for all-day comfort and support in shoes with less depth at the toes.
An ideal 3/4 length orthotic insert for preventing and alleviating pain associated with plantar fasciitis, heel or arch pain and discomfort, mild pronation and sore/aching feet.
SlimTech 3/4 is available in seven sizes.
Semi-rigid arch support and heel cradle for increased support and stability in your shoes
Moderate cushioning with VCT® Variable Cushioning Technology – targeted cushioning with a soft, supportive feel
Heat and friction reducing, anti-microbial top fabric
Ultra-thin design with tapered edge fits comfortably in most shoes
Shorter 3/4 length leaves extra room at the toes
Non-slip pad at the heel holds the orthotic in place
Moveable from shoe to shoe with no trimming required
Note from the Podiatrist
Powerstep SlimTech orthotics are designed for everyday use under the insole of your shoe.  I have tried these orthotics and enjoy them in my every day shoes while in the office and while on the trails.
Additional information
| | |
| --- | --- |
| Sizing | M 4-4.5, W 6-6.5, M 5-6.5, W 7-8.5, M 7-8.5, W 9-10.5, M 9-9.5, W 11-11.5, M 10-10.5, W 12-12.5, M 11-11.5, W 13-13.5, M12-13, W 14-15 |